Fishing Info
What Should I Bring?
There are no stores on the ocean, come prepared.
If you've never been out on the water fishing before it's important to know that the weather is volitile. Hot sunny days out on the water will crisp you up like a fish stick! Below is a short list of items we suggest you bring to ensure your fishing trip is a fun one.


Camera
Cooler for your food and beverage
Good sense of humor
Your cooler will also be good to carry home your catch.
Please wear non-marking shoes such as sneakers with white bottoms or boat shoes.
No boots or black-soled shoes.
We will provide all the fishing equipment.
No fishing license is required.
For those susceptible to motion sickness. We recommend that you take motion sickness medicine the night before.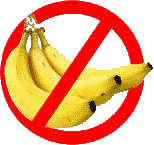 Important Do NOT bring bananas.
We are serious. They are bad luck! Back in the days of the sailing ships, sailors ate fruit to prevent an onset of scurvy. Bananas would ripen and spoil faster than most fruit. The bug larvae in the skin would hatch and infest not just the other fruit but the entire ship itself. It was deemed unfit for sailing ships. Any mention of bananas was seen as a bad omen and would spell misfortune for the voyage.